Welcome Paige McDuffee as Director of Pitching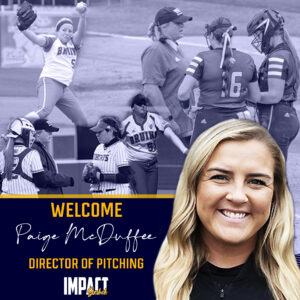 Paige McDuffee comes to Impact Gold as Pitching Director after a successful 5 year College Coaching career.
Texas State
The 2022 season was highlighted by the on-the-field success of sophomore right-handed pitcher Jessica Mullins, who was selected as the program's first Sun Belt Pitcher of the Year since Randi Rupp following the 2018 season. Throughout the season, Texas State played four teams (Oregon State, Oklahoma, Arizona and Texas) that played in the Women's College World Series. Under McDuffee, the pitching staff was second in the Sun Belt Conference with a 2.41 ERA.
In 2021, McDuffee was instrumental in the development of freshman right-hander Jessica Mullins, who earned All-Sun Belt Conference First Team honors, as well as having a hand in Meagan King's successful season, which resulted in the senior picking up All-Sun Belt Conference Second Team honors for the second time in her career. In her collegiate debut, Mullins threw a seven-inning no-hitter en route to becoming just the second Texas State pitcher to win 20-or-more games in their freshman season in the last 10 seasons.
Under McDuffee, the Texas State pitching staff led the Sun Belt Conference with a 2.00 ERA and earned the second-most wins in the conference (39). The Bobcat pitching staff also led the league in saves (8) and was second in shutouts (14). TXST allowed the fewest runs (129) and earned runs (103) and was one of just two SBC teams to walk 100-or-less batters throughout the season.
Texas State, which was earned the No. 2 seed for the 2021 Sun Belt Conference Championships, finished the season ranked 20th in the nation with a 2.00 ERA and 28th in the country with 14 shutouts.
Despite the 2020 season being abruptly halted, under McDuffee, the Texas State pitching staff was off to a tremendous start with a 1.59 ERA — the ninth-lowest in all of Division I softball — through 158.1 innings pitched. All three pitchers who appeared in at least one game during the season finished with a sub-2.00 ERA with all three student-athletes having earned five wins in the pitching circle prior to the season being ended as well.
McDuffee, who worked primarily with the Bobcat pitching staff, spent the previous two seasons at Texas State as a volunteer assistant coach.
During the 2019 season, McDuffee helped then-sophomore pitcher Meagan King to earn All-Sun Belt Conference Second Team honors as the Bobcats earned the fourth seed for the 2019 Sun Belt Conference Championship.
​
Dartmouth
In her lone season at Dartmouth, McDuffee helped a pitching staff that finished last in earned run average during the 2017 season to first in ERA the following season, en route to capturing the Ivy League regular-season championship.
UCLA
Prior to her coaching career, McDuffee pitched at UCLA, where she helped the Bruins to three Women's College World Series appearances during her five-year (one medical redshirt) playing career. She also won a silver medal at the ISF Women's World Championship while playing on the USA Softball Junior Women's Team in 2013.
The Woodlands | Travel Ball
McDuffee, a native of The Woodlands, Texas, was named the 2010-11 National Gatorade Player of the Year and Texas Gatorade Player of the Year after posting a 37-1 record, a 0.97 ERA and 244 strikeouts in 216 innings as a junior. Paige played for Impact Gold Jackson 18U 2012-2013, helped lead them to a runner up ASA Gold finish.
McDuffee graduated from UCLA in 2017 with a degree in Sociology.
About Impact Gold Fastpitch: Impact Gold is a Nationally recognized Elite Softball Organization representing teams from 10U through 18U. Our strong tradition of preparing student athletes for college goes back over 30 years, which includes countless NCAA D1 student-athletes, All-Americans, Olympians, USA National Team members and NPF players. We strive to cultivate the talent in every athlete, which allows each of them to compete at the highest softball levels. Located in 16 states (Alabama, Arkansas, Arizona, California, Colorado, Florida, Georgia, Louisiana, Mississippi, Nevada, New Jersey, New York, Oklahoma, Tennessee, Texas, and West Virginia). We strive to grow the game and help empower young women to become not only their best on the field but in life. Impact Gold Fastpitch works to create a positive atmosphere where players can grow, learn, and become successful on and off the field.
More Impact Gold Fastpitch Information at www.impactgold.com